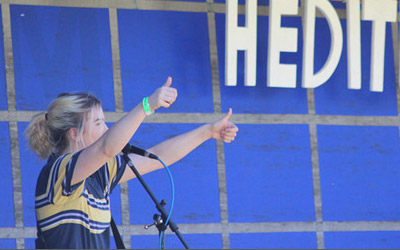 17 Jun

Case Study: Heditude 2019
Once upon a time in a rural Essex village …
Heditude is a community music festival. It's the vision of a local man, Aaron Stevens. But it was brought to life by a small band of his friends – and Precision PR Limited. This is the story of how a bit of marketing discipline can turn a little dream into a successful music festival attracting 800 people and raising a four-figure sum for charities – even though it rained.
How Precision got involved
Facebook is the simple answer. When the organising team initially worked out what they needed to do, one thing that was obvious was a website. Precision PR was a brand new business at the time. As we are based in Sible Hedingham (the home of Heditude) we responded to a request for help.
Nothing much happened initially, and we thought we'd been lost in a wave of enthusiasm to get involved. But eventually, the organisers asked us to meet, agree on terms and define a brief for the site.
Our initial task was to build a WordPress website. This had to carry all the public notices and a description of the event. We advised on the addition of a number of pages and built the initial site. We also advised that we should also create a blog page for announcements and news stories that could be distributed through social media, leading readers back to the website where they could also get supporting information.
What happened next?
With the site up and running we started building content, such as announcements about the bands as they were signed, and about things such as tickets. It quickly became apparent that many people wanted to buy their tickets online, particularly if they lived outside of Sible Hedingham.
We looked at plug-ins so we could manage this on the site, but that was going to be too complicated on the available budget, so we instead recommended setting-up an account with Eventbrite. Whilst this meant that Eventbrite took a cut, managing online sales was incredibly simple, and all that was needed to promote these sales was a blog or Facebook post that included a link the Eventbrite page.
Another bright idea was the creation of a second stage for acoustic acts. This means that Heditude can allow the sound crew 30 minutes to turn-around the Main Stage. But the music never stops – it just gets a bit more gentle while the next group gets ready.
Were we successful?
Yes. We sold one-third of advance tickets through Eventbrite and helped get 700 people to Heditude 2018. We also caught the attention of the local press, generating a full double-page centre-spread in the Halstead Gazette and further stories about the bands before the event and about the charity donations afterwards. All told, Heditude 2018 was able to donate £1,100 to charities – the first year of Heditude.
And this year?
Heditude asked us back for Heditude 2019. We were asked to update and manage the website (www.heditude.org) and generate news coverage. We also ran the Eventbrite site again and added direct mailing to promote ticket sales to people that bought tickets for the 2018 event, contributing to the total of about 800 people who attended (more than 10% of the combined populations of Castle Hedingham and Sible Hedingham).
We worked with our partners at East West Design to redesign and refresh the website. We also created commercially usable copies of the Heditude logo (so it could be 'multi-purposed' and reproduced accurately). Finally, we created a series of posters and fliers, together with a matching programme for the event. We wrote, designed and laid-out the programme – and we even sold a bit of advertising space for it. And to cap it off, we've been running market research through a simple, low-cost Survey Monkey survey to find out all we can about why and how people bought their tickets.
What about the weather?
Tracey Ashmead, Heditude event secretary, said; "Initial figures suggest we have made a similar amount to last year, maybe slightly more. That would suggest ticket sales were higher as we weren't charging in advance for U12's this year, yet money taken is about the same. But we still have money and donations coming in. So all in all (bearing in mind the rainy weather) a very successful and enjoyable day.
"There's no-doubt that Precision PR played a big part in ensuring  Heditude was successful last year and that it grew this year, despite the weather."
For 2019, Precision PR achieved a 5.1% uplift in Eventbrite sales (despite lower ticket prices), coverage by several 'Festival' websites, created multiple news stories in local papers, and once again (with the help of two of our regular local freelance photographers) had another centre-spread in The Halstead Gazette.
What does this mean for you?
One of the areas of PR in which we have much experience is communications around events. We've handled PR for dozens of organisations exhibiting at trade shows. We've also handled one-off technology showcases and press events, and now at community music festivals. So if you have an event or an exhibition for which you would like PR and marketing support, please call Chris on 07432 189149 or email cary@precisionpr.co.uk