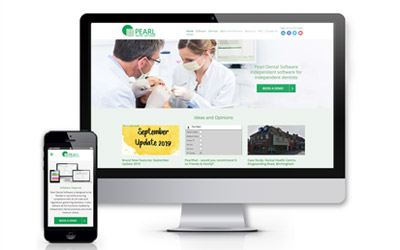 26 Sep

Case Study: Pearl Dental Software
New product, new image
BHA Software's dental practice management software, Pearl, is well established. In fact, it's the third most used product of its type in the UK. However, because the company had always sold Pearl through word of mouth, it had received very little marketing investment and simply didn't look the part.
Early in 2017, work was well advanced on a new version of Pearl, boldly named Pearl Dental Software. The established 'Pearl Plus' had reached the end of its development life and was built on a old-style architecture. With new work patterns emerging and many regulatory changes expected within dentistry, Pearl Dental Software needed to provide up-to-date features built on the latest development tools and based on a cloud architecture.
Such a major change in the product would be bound to cause some customer concern. So, the new product needed to be good. It also needed to tell users and potential customers it was good too. For BHA, it was time to invest in marketing.

A partnership is born
Also in early 2017, Cary Cray-Webb (a registered dental nurse and nurse-tutor) and Chris Webb (a technology PR professional for nearly 30-years) decided that it was time for some creative thinking of their own. Chris had spent years managing in-house PR teams to create some highly successful communications campaigns. He had also spent years working for PR agencies and freelancing. Read more about us.
Precision started business development activities and was soon in touch with BHA Software. BHA requested a proposal. After a visit to BHA's office in Leicester, the deal was sealed for a content-based social media campaign.
Precision would help BHA build LinkedIn profiles and attract members of the dental profession to connect. BHA's profiles would then share content, such as case studies, opinion pieces and articles from the Pearl website. This would develop the company's visibility and credibility, and drive traffic to the website. There was only one flaw in the campaign plan – the website.
A fresh look
Unfortunately, the Pearl website was not up to the job. It looked, shall we say, 'unattractive'. Worse still, it didn't actually have the capability to curate the content necessary for the social media campaign. A new website was needed. One that looked fresh, reflected and described the product, and that could 'compete' with the websites of competitive products.
Working with Precision's associate website designer, Dawn Li, Chris drew-up a specification for the new website. BHA quickly accepted the proposal. Development was scheduled for the site to be in place in time for the official launch of Pearl Dental Software – in just a few weeks.
The new site was built on the WordPress platform. This provided three key advantages:
Easy to maintain
Easy to develop further in the future
Easy to curate and share content for social media
While the new website was being built, content for the social media campaign was posted directly to LinkedIn or hosted on the Precision PR site. This was transferred to the new website 'Opinions and Ideas' section once the site was completed.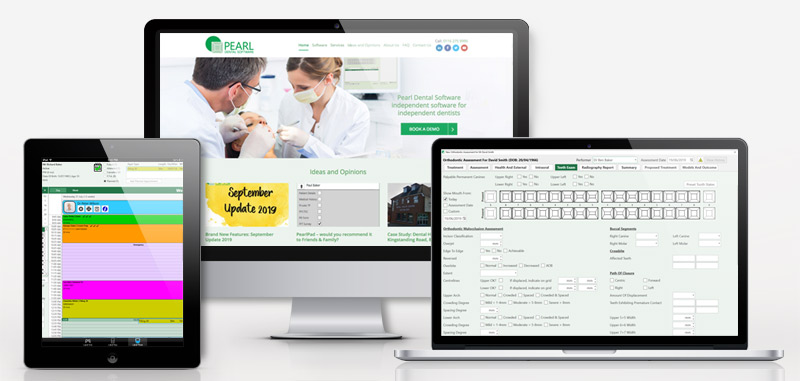 Branding
Creating a new website soon became the lead element of a full-on re-branding exercise. Dawn recommended that the Pearl logo needed updating. It needed to show that Pearl Dental Software was a new product – not just a re-platforming of Pearl Plus. Precision PR treated her design as an integral part of the project – other agencies might have chosen to charge for it as a separate project.
BHA quickly adopted and adapted the new logo for the product itself. Pearl Dental Software was starting to look as good as it is functional.
A wider remit
The new website was universally viewed as a success. As well as posting on LinkedIn the campaign was broadened to Twitter, and (to an extent) Facebook (each social media platform needs its own approach, so curated content designed for one doesn't always work on the others).
The key purposes of the campaign were defined as retention of existing customers, and encouraging migration from Pearl Plus to Pearl Dental Software. Precision PR recommended regular newsletters to BHA's several hundred of user contacts. The same curated content could be sent directly to the people who use and love Pearl Plus. And the message that Pearl Dental Software is even better would get to the people who need to hear it most.
Working with Charlotte Taylor, Marketing Manager at BHA, Precision started designing and editing newsletters. These were sent through Mailchimp, and eventually also taking on the distribution process. These were eventually going out every two months. However, a new plan (launching 2019) will see monthly 'technical updates' about the product itself. Newsletters, sent quarterly, will deal with issues and stories from the world of dentistry and dental software.
Precision also works with press and publishers on behalf of BHA. All advertising now goes through Precision who maintain relationships with the key industry publishers and event organisers. As Ben Baker, MD of BHA, says; "This means that we act strategically with advertising and exhibitions. Salespeople no-longer bombard us with calls, trying to fill up an issue. But we still maintain a relationship with the publishers. Precision assesses each opportunity and passes on their recommendations. We can select from options we already know are worth considering."
A star is born?
At the launch of Pearl Dental Software, Precision PR suggested that video would help customers understand the changes. Precision set-about managing the production of three short videos. They needed to be very 'personal', describing why the new product was necessary, what it was capable of doing, and how it would help customers. Ben Baker supplied the personal element.
"I think I've met all of our customers and most of their staff," says Ben. "We wanted to talk to them directly, but individual meetings were going to be impossible. I hate doing things like this, but Chris persuaded me that video would solve the problem."
Scripts were written, and a production team hired. A customer, JDRM, offered the use of a surgery in Coalville for the filming.
"I think you can see the difference in what we filmed before and after lunch," says Ben. "It took me a while to relax in front of the camera, and we had to do some editing where I fluffed my lines. But I think the finished videos worked well with our users. Professional enough to be credible, but with me being me as well."
Now and the future
In total, Precision PR provides about 5-days consultancy each month to BHA Software, plus weekly social media reports and a monthly planning meeting.
At time-of-writing, Precision PR has supported the marketing efforts for Pearl Dental Software for a little over two years. The work includes content creation, PR (media relations and social media), advertising, website maintenance, direct mail (newsletters and updates) and strategic advice.
Pearl or articles related to the product has appeared in several trade publications and journals (including The Probe and BDJ-Team). New customer signings are on the rise (including for the first time, practice chains). The number practices moving elsewhere has slowed to a trickle. All new and more than half of BHA customers are on Pearl Dental Software. And there is a queue of Pearl Plus users planning migrations.
Recommendation?
So what does Ben Baker think of Precision PR?
"Precision PR opened our eyes to what could be done with marketing. They provide us with very cost-effective campaigns and don't expect us to continually payout for extras. What they quote is what they charge. This predictability is really important for a small company such as BHA. Cary's inside knowledge of, and opinions about dentistry are always useful. And Chris has dealt with companies of all sizes, creating many different campaigns for a range of technologies. So they always have ideas for both marketing and the product. I would thoroughly recommend Precision PR Limited to any technology business."
More information
For more information, or for a chat about how Precision PR could help your business improve its brand, marketing and communications, please go to the call us page, call Chris on 07432 189149 or email chris@chrisprecisionpr.co.uk