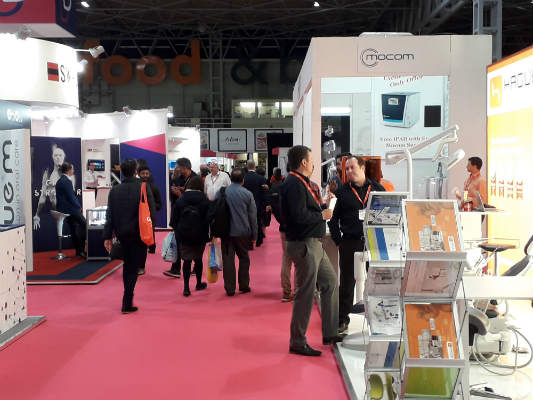 20 Oct

One couple's day out in Birmingham – at the BDIA Showcase



A review: BDIA Showcase, NEC, 17th-19th October
Apparently, people we know think we're a bit weird. "What are you doing this weekend?" they ask. "We're going to the BDIA Showcase at the NEC," we reply. "Oh! Why?"
Why indeed? Including the trip to Colchester to drop our youngest son at his brother's house for the day, the NEC is 156 miles from home. So it better be worthwhile as we're investing a whole Saturday.
After Cary's obligatory McDonald's breakfast (amazing what she'll agree to for one of these) and a stop off at the surprisingly pleasant M6 Corley services, we hit a bum note.
We arrived at the NEC as planned just after 11:00 am. And it seems that the entire UK caravan and motorhome community chose the self-same time to visit their trade show.  A queue to get onto the site, queues for the carparks, queues for the transfer bus. Not a good start to the day.
We finally made it into the building just before noon, and dodged the bag search. NEC, please take note – Security didn't have their A-team on duty. It was then an easy walk to Hall 3. The bus driver had announced Hall 5, but he wasn't part of the A-team either.
First impressions
Registration was in the hall entrance. This is a good thing as you don't have to wander around the atrium trying to work out how to register and get in. Note – the A-team weren't issuing the passes, but it was such a simple process they couldn't muck it up too badly.
Walking in, the walkways were clear, straight and wide, decorated with a pleasant cerise carpet. BUT no pre-made packs, no goody bags, and the show guides seemed hidden (we found ours on the way out!).
Crowds
'Crowd' might be a bit of an exaggeration. We spoke to several exhibitors who said Saturday was the busiest day, but it certainly wasn't what you'd describe as crowded. One said he thought seriously about pulling out of Saturday as Thursday and Friday had been so quiet. Others thought Thursday had been acceptably busy, but that Friday was a write-off.
Halls 3 & 3a are not the biggest halls at the NEC, and it was difficult to see how much had been occupied by the show. There were several theatres which were large, and these made it difficult to see how much space was used. We certainly don't think the halls were fully utilised. That said, the back of the exhibition was very close to the back doors.
Exciting new things!
Well, more like one exciting new thing. 3D-Printing is about to come of age in dentistry. We spoke to a couple of suppliers of 3D-Printing kit who told us that a number of processes and materials have been approved by the FDA for use in the United States. Certification is currently underway in Europe, and once complete, 3D-Printing will be available to both laboratories and dentists for making appliances such as dentures and clear aligners.
Beyond that, there wasn't anything particularly exciting to shout about.
Things that were missing
Carestream!  Not a sign of them. They were completely absent. So were all the practice management software vendors apart from Software of Excellence, Dentally and Systems for Dentists. If anyone else was there we couldn't find them – which amounts to the same thing (only more expensive).
Several of the big kit suppliers were also missing, though several others were exhibiting (Planmecca, Durr, Belmont, Acteon, etc).
Nobody had 'stupid' attention-seeking stands either – certainly no scantily clad Santas or inexplicable 'dwarfs'.
The MOD recruitment stand was empty too, which was a shame as we wanted to talk to them. Right at the back of the show, they probably gave up after the poor audience on Thursday and Friday.
Conclusion
We went to the BDIA Showcase last year at the London Excel, and we thought that was a great show. This wasn't. The audience was poor, and exhibitors were relatively thin on the ground.
Did we achieve our aims? Yes. We met the two organisations we had planned meetings with and our discussions will progress. The fact that the crowds were so thin on the ground probably helped. We also had a chat with a few other interesting organisations. But if we had been going for some other purpose I don't know that we would have thought the show a success.
Shows rise and fall in a complex cycle. Each grows through investment, success and rinsing phases.
In the investment stage, the organiser goes above and beyond to create a 'show brand'.
In the success phase, they deliver on their promises – audience, promotion, value.
In the rinsing stage, they believe the brand is self-supporting – pricing creeps up, promotion slows down and value plummets.
The BDIA showcase at the NEC is in serious danger of moving into the rinsing phase.  I would recommend to the organisers (and to exhibitors) to ignore the NEC and focus on London Excel.
A note to all organisers
Dentists earn money by seeing patients. Some of them earn A LOT of money. If you want them to give up money to attend, better make it worth their while and tell them WHY they should be there. The same applies to persuading them to send their staff during the week. And also the staff themselves if you want them to attend on a Saturday.
Likewise, picking a date during a major religious festival (Diwali) celebrated by a significant part of your target audience is dim.
Are exhibitions in fashion?
Outside of the efforts of individual shows, exhibitions as a whole go through a success cycle.
We're not entirely sure where they are in the UK. Some shows are succeeding, some aren't. They are definitely doing well in consumer markets – B2B is more of a mixed bag.
On the continent, European mega-shows in Holland, Belgium and Germany look like they are maintaining their popularity and value.
But what do you do if you are focused on the UK market? If you're not a European-wide brand, the pan-continental mega-shows are just too expensive, and the audience too disparate.
Our advice
We continue to recommend that dental businesses exhibit. However, we would suggest that the London Dentistry Show and BDIA Showcase in London are better exhibitions than BDIA Showcase at the NEC.
The organisers of the Dentistry Show at the NEC during the spring have assured us that they are taking action to correct the deficiencies of this year's show, and that may well make it a recommendable show next year.
But at the moment, we recommend using your exhibition budget to also create your own smaller events. More effort – possibly. More manpower needed – definitely. But success will be due to YOUR marketing efforts, and focus will be on YOU.
So what do you think?
If you attended or exhibited at the BDIA Showcase at the NEC, we would love to hear your views. Contact us at cary@precisionpr.co.uk or call Chris on 07432 189149.