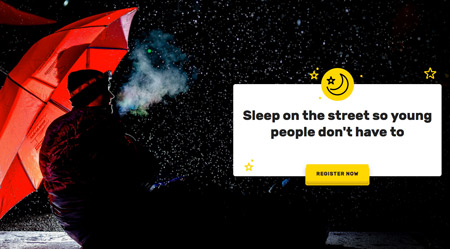 19 Dec

Merry Christmas, and a warm, safe and comfortable New Year
Merry Christmas to Friends and Family
This year we've decided to NOT send Christmas Cards to our many friends and relatives.  Instead we've made a donation to Byte Night – https://www.bytenight.org.uk/
So why have we gone all 'Chariddy Baby'?
The issue of homelessness clashes head-on in the UK with cut-backs to social services. One of the points of conflict is children's services. Essentially, these services are withdrawn when the child reaches 18. The result is that many of these 'vulnerable children' become 'homeless adults' as a little birthday present from our somewhat flawed welfare state.
Rather than spend a couple of quid each on sending Christmas cards to everyone we could think of, we thought our time and money would be better spent by donating to Byte Night and encouraging you to do the same.
Chris first got involved when working for CODA Group plc in 2005. It was an eye-opener. But he also got to have some fun AND spent a whole night sleeping next to Jenny Agutter at a 'sleep out' event run by Byte Night. Jenny is a long-term supporter of the charity and has participated in many such events.
More recently we've seen several situations up-close-and-personal where children and young adults we know could easily have become homeless. While many of these situations are complex, we think our society should be doing more for these young people, and that's why we've got involved.
Step Up Byte Night and Action for Children
Byte Night is a national 'sleep-out' event and Action for Children's biggest annual fund-raiser; Each year, hundreds of like minded people from the technology and business arena give up their beds for one night to help change the lives of vulnerable young people.
It all began in 1998 when 30 individuals slept out in London and raised £35,000. Since then, Byte Night has now grown to 12 events and over 1500 people slept out in 2017. Byte Night is now one of the UK's top 17 mass participation charity events and is the largest charity sleep-out. It has raised over £10 million since the first event.
The money raised by Byte Night specifically helps Action for Children work to support some of the 83,000 young people who are homeless in the UK every year through no fault of their own.
Proud to be part of an Industry that Cares
As the name suggests, Byte Night is the creation of the UK technology industry. When we started Precision PR we decided to put Chris' 33-years of technology experience at the core of our services. We are proud to be part of an industry that cares and DOES something about an issue we feel strongly about.
As our business grows we plan to increase our involvement and to encourage our clients to get involved as well. In the mean time, let's all be grateful and thankful that we and all our loved ones are safe and warm this Christmas, and resolve to do more to help others feel the same when Christmas comes round in 2018.
Merry Christmas
Cary and Chris
ps. If you'd like us to 'Sleep Out' in 2018, and you're prepared to sponsor us, please let us know via our contact us page.