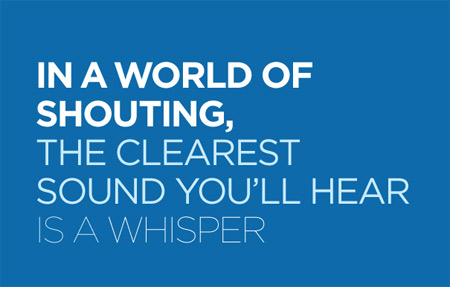 08 Jun

So put your money where your mouth is
Our first advert
"Well Mr Client, chasing earned media and working with Social Media is only half the battle."
We admit it – we've said it many times. No one route to an audience is seen by everyone you'd like, so the more (properly chosen and co-ordinated) routes you have the more people will read your message.
So now we've taken our own advice and started advertising!
Subtle changes
Yes, we certainly have taken our own advice. And used our own resources to design the advert which first appeared in the latest issue of Modern Dentist (on the inside back cover).
And that starts with an advertising campaign using the strapline; "In a world of shouting, sometimes the clearest sound you'll hear is a whisper."
You might have also noticed a few little changes to our website. When we started our business we expected to appeal to US (and other international) companies planning to move into the UK market.
Instead, we've found a greater demand for our specialist skills in dentistry and digital imaging. At the same time, 'Brexit' (or rather the uncertain it's created) has negatively impacted on the type of marketing investments we have been involved with in the past. So we've refined our messaging to reflect this.
Communications campaign planning
We are currently managing coordinated marketing communications campaigns for multiple clients. So if you are looking for ideas to help you say the right thing to the right person at the right time, call us: +447432 189 149.