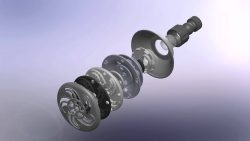 09 Oct

Things I wish I could do in CAD
Computer Aided Geekiness
I'm no designer or engineer, but I absolutely love Computer Aided Design (CAD) software and all its derivatives and associated applications.
I love 3D-modelling, I love surface manufacturing. I love rendered visualisations. And I love all the things you can do with them.
I'm also pretty keen on Computer Aided Manufacturing (CAM) and Computer Aided Engineering (CAE). The things for which you can use these classes of applications seems to increase weekly. From machining parts for racing cars direct from the designer's computer screen, to milling dental crowns and inlays developed from digital scans of the patient's teeth.
How it all started
For me, CAD started during my first employment at Avon County Council Highways & Engineering department. One of my jobs there was as a computer operator, running the programmes that modelled the horizontal and vertical alignments of the Avon Ring Road (now often called the Bristol Ring Road). I turned these models into the huge A0 drawings used as the plans for the scheme. I also ran programmes to simulate traffic flows, and mystical 'cost/benefit analysis' models.
Even as someone relatively new to computing, it was obvious how much more productive were the design teams using the departmental computer system than those teams that weren't. That got me excited. I could see that the scheme would take for years to design without the computer. Like so many other schemes in and around Bristol, it was riven by political NIMBYism that required multiple changes to the design. Without the ability to redesign sections quickly the Avon Ring Road would never have been completed – like the infamous Three Lamps Junction scheme.
Formula One and Jet Fighters
The front line fighter defending Britain's airspace during the 1960s was the English Electric Lightening – the only all British Mach 2 war plane. It was designed using slide rules to compute the Finite Element Analysis (FEA) modelling techniques used in its development And while its service life spanned thirty years, the design resources required were simply enormous.
Later designs have become ever more complex and expensive to develop. As a result, the lighting's successors – The Panavia Tornado and the Eurofighter Typhoon – were so expensive to develop that the costs were spread across several European countries. Without CAD these projects would have been virtually impossible. The interchange of design data would have been too complicated.
Williams
During the late 1990's I was lucky enough to further expand on my CAD geekiness by becoming account director at Insight Marketing & Communications. One of my clients there was SDRC – at the time the technology and market leader in 3D Solid Modelling CAD/CAM/CAE.
One of SDRC's clients was the grand prix racing team of Williams Formula One. Actually, most of the formula one teams of the time used SDRC software; but SDRC sponsored Williams. This also happened to be during William's F1's time as the number 1 team in F1. And that meant I got to take journalists to attend events and visit the factory.
One over-riding and abiding memory is touring the factory. A 5-axis milling machine was making parts for a front wing – straight from the model, immediately it was signed off. But then at the next workstation were two chaps who made exhaust pipes. They made them the old fashioned way; cutting sheets of metal, forming them into tubes, and bending the tubes to shape by hand and hammer. But they were still working to plans made on a computer terminal.
CAD for the masses
I can't recall what happened to the SDRC account while I was at Insight, but I do recall that we were hired to launch a new product called SolidWorks into the UK. Unlike the UNIX-based SDRC software, SolidWorks ran on a Windows-based PC. This made the hardware significantly less expensive. At the time, SolidWorks wouldn't be your first choice to design a jet fighter or a grand prix racing car. However, it was brilliant for the more mundane industrial design that most companies do. And SolidWorks is still going strong, now owned by Dassault Systèmes. So ironically, it's now part of a company best known for making jet fighters.
And the things I wish I could do are?
I would just love to have got that engineering qualification I planned at school. I would have been thrilled to have spent at least part of my working life designing things using CAD. Instead I went into 'computing' and I've spent my life watching CAD from the side line. Running models through the system, plotting drawings, and writing about the relative merits of solid modelling versus surface modelling.
I don't regret my chosen career path as such, but I am a little jealous.
If you share my enthusiasm for CAD, digital modelling and visualisation technology – and especially if you would like help marketing such technology – please call us.