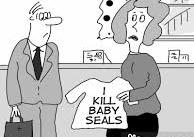 12 Mar

What do you do when a bank's 'Customer Support' procedures don't work?
Dear Bank Manager
Did you know that several of your online banking functions no-longer work using the Firefox browser?
Did you know that your 'Secure Message' facility doesn't seem to work in Firefox or Chrome?
Do your "Customer Support" team know this?
We tried five or six times to simply report these minor technical problems that were causing serious disruption to our fledgeling business. And we placed another call to unlock our account due to a spelling mistake. We ended up having to both go to the branch to resolve this – a 14-mile each-way drive which had to wait due to heavy snow – thanks to our bank's over-rigid security.
So what do you do when your bank screws-up on a technicality?
Cary and I made six calls to customer service and one to branch (who said they have to ring customer service on our behalf, once we presented ourselves in branch in person). Then we got a snottygram for trying to breach their security processes.
In addition to this, our business bank shut it's local branch shortly after we opened our account. So we also had to make a separate 14-mile round trip (plus parking fees) in order to draw out money from an ATM to pay it into a personal account with a different bank in order to pay our personal and business bills and expenses.
As it is, we have since been able to access some of the functions we need by installing a new browser (Chrome) and trying that. But that was curiosity on our part, not through advice from our bank. Plus the online secure message facility works only when it feels like it in Chrome and regularly throws an error message.
We're disgusted and will be moving our account elsewhere.
Test your online software
The message for banks (and everyone else) is to test your on-line software properly before releasing.
If you find that it works on one browser but not another TELL YOUR CUSTOMERS. That way the customer can choose what to do, to work out a workaround, or possibly even help you get the problem sorted out by testing etc
It turns out that our bank knew of the problem but simply chose to keep quiet. As a result, they're going to lose a loyal (if small) customer.
Please feel free to make recommendations about good business banks, or bitch about equally awful customer experience in comments, or contact us with your own thoughts on the subject.