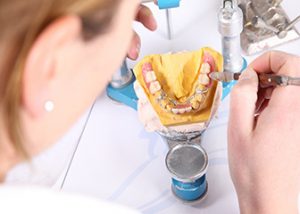 06 Jun

Dental lab work and patient care
The Lab Man cometh
The arrival of the courier bringing the day's lab work causes mild excitement in every dental practice. In many practices, the appointment book is organised to take advantage of this; we usually take impressions before his/her arrival, and carry out fittings afterwards.
For the patient, this looks like so much admin. For the dentist, this is (often) just delivery of materials. For the nurse it is STRESS!
The reason is simple – nurses are the interface between the 'lab man', the patient and the dentist. Lab work not dispatched or didn't arrive? Blame the nurse. If the lab work doesn't fit or is some other way defective it's the nurses fault. If it means an extra appointment it's the nurses fault. If it hasn't been labelled and packed correctly it's the nurse's fault; actually, in that case it really is the nurse's fault.
Much ado about huffing (and puffing)
So what? You might well ask, but actually I think this is important. Lab work not fit for purpose (or that arrives late) seriously impacts both patient care and dental practice working (and profitability). The same thing applies to internal systems that don't accurately track the whereabouts of lab work – but that's a different story.
I would argue that management of lab work is critical to running a successful dental practice. I would also argue that reducing reliance on external laboratories would boost practice efficiency and improve patient care. So how should we do this?
CEREC to the rescue
Last summer I moved to a new practice that uses a CEREC system. I am thoroughly impressed by its capabilities. Even though we use it for only some types of 'lab work' I can see the benefits. We have greater control over when we produce the work and more importantly, when we fit it. It makes it easier for patients to book a convenient appointment and reduces our expenditure on lab work.
Most importantly, it also improves the quality control over the appliances we manufacture. We can track exactly where, why and how faults have occurred – there's no need for finger pointing, just constant improvement. Reduced cycle times are within our control, so we can also correct or rework defects, usually without any impact on the patient.
For me as a nurse, this gives a huge benefit. I nurse because I'm interested in oral health and because I like being helpful to my patients. If I wanted to spend my time apologising and re-booking appointments I would work in a customer service centre. Reducing the amount of work we send to laboratories benefits me by reducing the amount of time I spend placating patients and increasing the amount of time I spend making them happy.
I see a future – in digital lab work
As digital imaging and on-site manufacturing spread (both milling and 3D-printing/additive), I believe that the quality of patient care will increase. Although the capital investment in such systems is still quite high it is easy to see how they provide a financial return.
The NHS is currently introducing changes to patient care. These will probably increase the demand for appointments, and dental practices will need to respond by improving their efficiency if they are to be successful. I believe that introduction and expansion of on-site CEREC manufacturing systems will provide significant efficiency improvements. Working for a practice already using this amazing technology is a great experience.
If you are interested in digital dentistry and patient care you may like to read an article by Dr Iulian Popescu. If you would like advice on marketing dental practice management or CEREC systems, please call us.