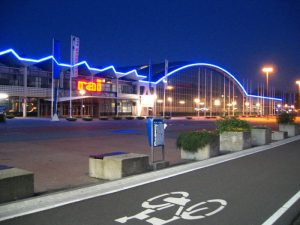 25 Apr

How to manage PR at a Trade Show
6 PR tips to make the most of trade shows
I've been to dozens of trade shows in the UK, Belgium, Germany and The Netherlands, working in-house and as a supporting consultant. Here are a few things that I've learned about PR at exhibitions along the way:
1 – Start early
Kick off your campaign as soon as you decide that (or are notified about) your organisation is attending a show. Work out how you can link news to the exhibition and develop a time line.
2 – Plan, plan, plan and then plan
I believe that planning is essential, beyond just working out how the trade show will affect your annual campaign.
Agree with your management team the theme of your exhibit, PR objectives that the show might deliver. Consider how much PR resource you can allocate to the show.
3 – Take charge of show guide submissions
If someone else is responsible for the stand there's a good chance you will become their new best friend if you take on the task of writing the blurbs for show guides, websites, etc. This will also help you get better access to information about the show, including to the the PR team promoting the show itself.
4 – Talk to product management
Product managers and similar 'experts' are far more credible and interesting to journalists than sales staff. If you have a product management or product marketing function, talk to them to ensure you know what they will be able to deliver to the show and how you can craft a newsworthy story.
Ask them to think about new products (obviously), Beta-test programmes, road-map announcements, on-stand demonstrations, new customers – or just being able to talk about new technologies and business ideas or market trends.
5 – Make friends with the show PR team
Find out who is running PR for the show and get in contact.
Ask them what they are planning to do to raise the show's profile before, during and after the show. If they are providing a press office, ask them how they expect it to work and how they would like press materials prepared for that office.
Most importantly, ask them to provide a list of journalists they expect to attend the show – some will, some won't, and some don't have one.
ALWAYS offer to help – they often need it.
6 – Treat the journalists with respect
Timing is everything. Think about how you can provide a story that breaks at or just before the show while leaving some element of surprise on the stand.
Journalists attending shows will be busy. They probably have time to do about 12 interviews during the day, and energy to do fewer. Never spend your time chasing journalists around the show – you just make yourself look silly, unprofessional and annoying.
Reach out to your key trade journalists early. Ask how they plan to cover the show and if they are planning to attend. Have something to offer them on every call – and if they want the full story in advance agree with them when you should send it.
Make life easier for journalists by giving them a compelling reason to visit you, ensuring your spokesperson is waiting for them, and that they spend their time with you enjoyably and usefully. A decent cup of coffee might also help,
While these points might seem very basic to some, if you find something new here, please call me for free advice. I'm also happy to take on your exhibition projects to help you deliver a great PR result from your trade show.